Facebook 2.0 for iPhone lets you make new friends and more
I confess that I am not a big Facebook user. I likes faces well enough, and heaven knows I'm a fan of
books
, but put them together and I'm just left cold. Of course, I'm probably in the minority in that regard, so the rest of you vocal majority will be glad to hear that the social networking site has
upgraded its free iPhone application to version 2.0
(iTunes link).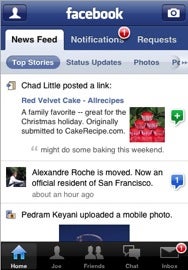 The new iteration of the iPhone Facebook client adds a lot of features that were lacking in
the original app
that Facebook debuted when the App Store opened its doors. What's new in this version? Well, they've finally added support for notifications, the full News Feed (and story comments), people search, friend requests, photo tagging and captioning, your entire inbox (with attachments), and more. Plus, the app as a whole is supposedly faster and more stable, especially for those with lots of friends. Or, in other words, not me.
As nice as those updates are, they're not about to get me poking and writing little messages with everybody else, but I'm sure those of you who are
avid
about the Facebook will be gratified to hear that you can now duplicate the experience wherever you are.
Read the whole article @
Mac World
Get a
Free iPhone
! Yes, that is correct! Stay away from the hassles of earning enough to pay for it for you can get it the simple way .... straight to your doorstep! Free! Interested? Then find out how to get a
Free iPhone
!
Labels: apple, facebook, free iphone, free iphone apps, iphone